Transmission Services for Belleville IL & Surrounding Areas
Have you begun to notice your vehicle slipping out of gear? Are you smelling burnt transmission fluid? These are signs of a transmission problem, and it's important that you have them looked at by your local transmission shop immediately. At Randy Foster Automotive Transmission, we provide transmission repair services to customers in Belleville, Illinois; and the surrounding areas. As a family-owned business, we know how much you count on your vehicle to get you where you need to be. We're here to provide expert transmission diagnostics and repair when your vehicle decides to break down. We use over 20 years of experience to ensure lasting repairs that will keep you on the road longer and safer. – Continue reading below to learn more about transmission services.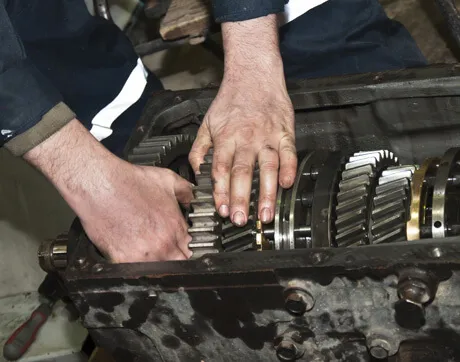 Our Transmission Services
Those in the Belleville, Illinois area, and throughout the Metro-East, know to call us for all of their transmission needs. In fact, they know that we staff ASE-certified automotive technicians. So you can count on us for a complete diagnosis of your transmission problems. From simple fluid leaks, to complete transmission breakdowns, it's good to know that our experts are on the job. Our transmission services include the following:
Transmission Service
Transmission Repair
Transmission Replacement
Transmission Rebuilds
Transmission Maintenance
Transmission Fluid Leaks
We provide transmission service to all makes and models of any foreign or domestic vehicle, which includes late-model vehicles, new vehicles, cars, trucks, SUVs, vans, and more. Because we service a variety of vehicles, we have the knowledge and experience on multiple transmission types that include the following:
Automatic Transmissions – This is a traditional type of transmission that's found on many vehicles. It utilizes a torque converter, gear set, and clutches to cycle through gears automatically.
Manual Transmissions – This type of transmission involves the driver manually cycling through the gears through the use of a clutch foot pedal and stick shift.
Automated Manual Transmission – This is a newer type of transmission that's not found on late-model vehicles. The clutch is automated, but the driver can still cycle through the gears manually if they elect to.
Continuously Variable Transmission – This type of transmission uses belts and pulleys and a series of sensors to maintain speed without having to change gears.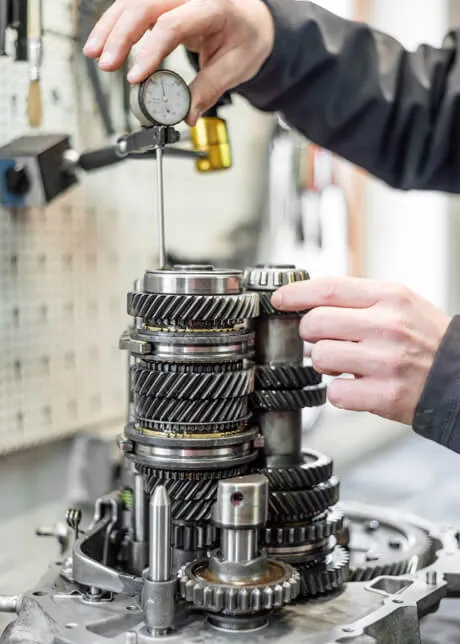 Have you noticed problems with your transmission? If so, you need to get it inspected and repaired right away. While you may be able to drive your vehicle with a bad transmission, this is unsafe for you and everyone else on the road. This makes you more prone to breakdowns. Additionally, driving with a bad transmission can put stress on other parts of your vehicle, causing further problems. Contact a member of our staff if you notice the following signs: 
Signs of Transmission Problems
Slips through gears when shifting
Rough shifting
Shifting is delayed
Transmission fluid is leaking
Transmission fluid is burning (you can smell it)
Your car won't go into gear
You hear whining or clanking when accelerating
While you may need a complete transmission replacement, you might be able to save yourself some of the expense. Our team of trusted technicians provide transmission rebuild services for some vehicles. We'll diagnose the issue, disassemble it, replace the damaged components and completely reassemble the transmission. This costs less than a complete replacement. However, you can avoid major transmission problems by adhering to the following transmission maintenance tips:
Transmission Maintenance Tips From Our Professionals
Check transmission fluid levels on a regular basis
Use the correct transmission fluid
Have your vehicle serviced on a regular basis
Adhere to proper gear-changing procedures
Have problems/signs of trouble checked out ASAP