Auto Services for Belleville & Surrounding Areas
Having problems with your vehicle? Are you due for routine maintenance or an oil change? If you are looking for an honest estimate and affordable auto repairs in Belleville, Illinois, call Randy Foster Automotive Transmission. We have been providing dependable service to customers in the area for more than 20 years. We're a family-owned and operated business that has been serving the area since 1995, and we provide the quality auto service that the people of the Metro-East area deserve. With ASE-certified techs and a wealth of experience, you'll see why people all over the Metro-East area trust us with their cars. Call us for an estimate and schedule your service appointment today!
Those in Belleville, Illinois and throughout the surrounding areas know that they can trust us for expert service when they need it most. We work on all makes and models of domestic and import cars, trucks, and SUV's. You can trust that our ASE-certified technicians have the knowledge and experience to complete any auto service. Please see below for a list of our services, or call our staff to schedule a repair!
Engine Repair
Brakes
Transmissions
Oil Changes
Fluid Leaks
Tires
Wheel Alignments
Shocks & Struts
Auto Tune-Ups
Mufflers
Exhaust
More…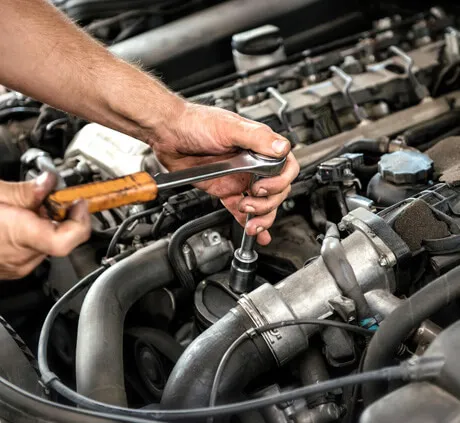 Engine Repairs & Tune-Ups
When it comes to your vehicle, you wouldn't be going anywhere without your engine. This part of the vehicle utilizes the fuel you put in the gas tank to create the power that ultimately gets transferred to the wheels. Unfortunately, engines have a tendency to break down, especially when they haven't been cared for properly. At Randy Foster Automotive, we provide a complete engine repair service. That service includes engine tune-ups and optimizing your vehicle for maximum performance and fuel efficiency. Call us for more information about our engine repair services!
Your transmission is just as important as your engine. Your Transmission helps navigate the power created in the engine to provide motion in the wheels. While your vehicle may be able to drive with a faulty transmission, this puts stress on the other parts of your vehicle. This means you can turn a small problem into a huge problem.  If you begin to notice signs of transmission problems and failures – such as leaking fluid or strange noises – contact us and we will schedule a diagnosis. Visit our 'Transmission Repair' page for additional information. 
Routine Maintenance & Oil Change
We rely on our vehicles to get us places. However, sometimes our cars aren't the most reliable machines. They're prone to eventual breakdown and generate problems requiring extensive repairs. However, you can decrease the number of breakdowns and repairs by sticking to your vehicle's routine maintenance schedule. This includes replacement fluids such as oil changes, tire rotations, and filter replacements.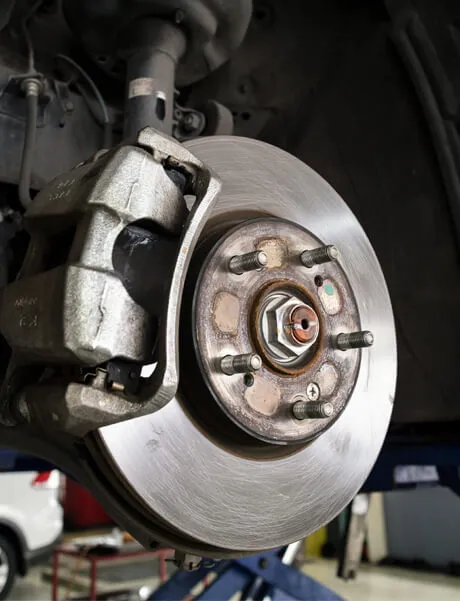 Noticing wear on your tires? Hydroplaning when it's misting outside? Our shop provides complete tire services that include tire mounting, tire balancing, tire rotations and more. Don't risk your safety with worn tires that won't grip the road – Contact us for affordable tire replacement and flat tire repair services!
Brakes are a part of your vehicle that must be inspected and replaced by a recommendation from your vehicle's manufacturer. At Randy's, we agree. That is why we provide repairs to disc brakes and drum brakes. This also includes new rotors, new brake pads, new brake calipers, and more. Don't risk your safety – if you notice the signs of a brake problem, contact your local auto shop for diagnosis and repair.
Shocks, Struts, & Suspension
Shocks, struts, and other parts of your suspension system are in charge of keeping your vehicle off of the ground. Without these components, it won't properly absorb shocks and other bumps in the road. This can make for an uncomfortable ride and can cause a safety hazard for those in the vehicle. 
The fuel that your vehicle burns create a by-product that goes to your muffler. Your muffler and exhaust system help limit the number of harmful emissions and noise pollution that's emitted from your vehicle. A faulty exhaust system will result in poor fuel economy. Don't' forget – we even provide emissions repair services to help keep your car up to EPA standards. Call for more details!