Your Expert Auto Repair Shop near Mascoutah, Illinois
Having car problems? Need an estimate on repairs? It's time you called a local auto repair shop that has a reputation for expert service and friendly customer care. At Randy Foster Automotive Transmission, we provide expert auto services for customers in Mascoutah, Illinois; and the surrounding Metro-East area. As a family-owned business, we know that you're busy and that you rely on your vehicle to get you places. With that in mind, we utilize over 20 years of experience to provide fast, friendly, and affordable auto repairs when you need them most. With an ASE-certified staff, know that you're making the right choice for all your auto service needs. Call to get started, today!
In the Mascoutah, Illinois area, people know to call Randy's for all their automotive repair needs. Our customers know that our team is comprised of ASE-certified automotive technicians that provide service and repairs to all makes and models of any foreign or domestic car. Those include late-model vehicles. Whether you need routine maintenance or you're bringing it in for major repairs, we're the ones to trust. Below is a list of auto services that Randy Foster Automotive & Transmission can do for you.
Engine Repair
Brakes
Transmissions
Oil Changes
Fluid Leaks
Tires
Wheel Alignments
Shocks & Struts
Auto Tune-Ups
Mufflers
Exhaust
More…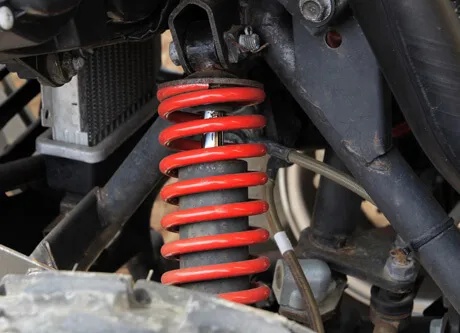 Engine Repair & Tune-Ups Mascoutah, Illinois
Have you noticed something strange going on with your vehicle? At Randy's, we provide complete engine repair and engine diagnostics services to ensure your vehicle stays on the road for longer. Whether you're experiencing a drop in performance or fuel efficiency, we provide the repairs needed to get your vehicle back to normal, fast!
Transmissions Mascoutah, Illinois
When it comes to the transmission of your vehicle, it's vital to have it serviced and repaired as soon as you notice any problems. This part of your car takes the power from the engine and turns it into motion at the wheels. However, driving with a faulty transmission could cause problems for other parts of your vehicle. Make sure you notice the signs of transmission trouble that have been highlighted below and be sure to call us for an inspection when you notice them. 
Signs of Transmission Trouble
Slips through gears when shifting
Rough shifting
Shifting is delayed
Transmission fluid is leaking
Burning transmission fluid (you can smell it)
Your car won't go into gear
You hear whining or clanking when accelerating
Tires & Brakes Mascoutah, IL
Our auto repair shop serves as your complete tire and brake service center. We provide mounting, balancing, flat tire repair, and wheel alignments for tires. For brakes, we service disc brakes and drum brakes. We also offer repairs and replacements (and more) for rotors, calipers, brake pads, and brake lines.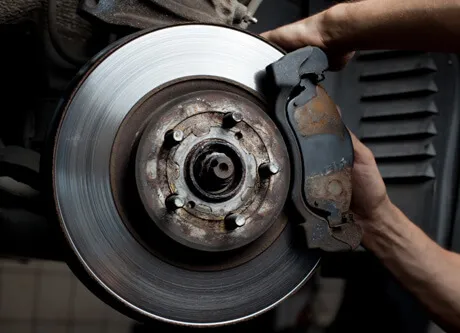 Mufflers & Exhaust Mascoutah, Illinois
The burning of fuel in the engine creates emissions that are harmful to the environment and must be limited. With that in mind, we provide repair services for mufflers and exhaust systems for all makes and models. We even provide emissions testing services and emissions repairs to help keep your vehicle up to EPA standards.
Suspension & Steering Mascoutah, Illinois
The suspension and steering systems of your vehicle are vital safety components that must be maintained and serviced to preserve your safety, your passengers and other drivers. We provide repairs and replacements to all components that include the steering column, chassis, axles and more!
Routine Maintenance Mascoutah, Illinois
When it comes to your car, routine auto maintenance is vital to preserving the longevity of your vehicle. Whether you need a routine oil change, fluid flush, tire rotation, filter replacement, or other services, Randy's team will provide what your car needs. Please take a look at the following auto maintenance tips below to avoid unnecessary repairs and breakdowns.
Follow the manufacturer's maintenance schedule
Change oil, fluid & filters accordingly
Rotate tires on a regular basis
Do a visual inspection before getting in your car
Get problems checked out ASAP
Locate a qualified mechanic for repairs